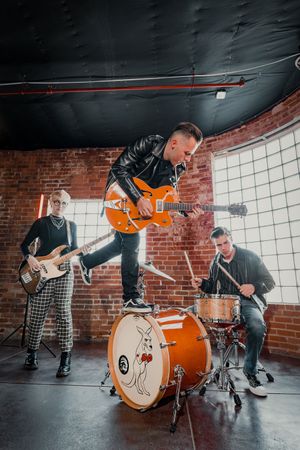 Bio
Originating from Phoenix, AZ, The Joeys display a mastery of both traditional and modern rock styles with their shape-shifting sonic framework, alternating from punk rock to roots, rockabilly and blues. Comprised of Dean Cheney (Guitar/Vocals), Logan Cormany (Bass/Vocals) and Hayden Lamm (Drums), their sound is enmeshed in a world of variety, their strength lies in their diverse production styles, and with each release there exists an aura of innovativeness.  
​  
Since bursting onto the scene in 2019 with the gripping "Phantom Bride of 13 Curves", they have been able to demonstrate their deep appreciation and understanding of rock history with each release by lacing cinematic story-telling with a thrilling blend of bold studio captured live energy.  In 2020 they released their debut EP "Punks From Outer Space" showcasing growth in terms of their storytelling and production styles. There's a lot of frenzy and ecstasy sprinkled all over the EP with even more live energy prowess and more urgent songwriting; Dean Cheney's vocals draw the listener in from the start of each track with the band pushing their chemistry to new heights and solidifying The Joeys' trademark sound. The record is filled with truly electrifying tunes.  
An early career-affirming moment for The Joeys was in late 2019 when they won Alice Cooper's Proof is in the Pudding competition. As a result, the band played an opening slot to a sold out Celebrity Theater during Cooper's Christmas Show. Along with playing several other festivals (including;2022 and 2023 Hot Rod Rock and Rumble, 2020 AZ Rockabilly Bash, 2019 Lake Havasu Rockabilly Reunion,  The Joeys have  been featured on the nationally syndicated Rockabilly & Blues Radio Hour and have supported several international touring acts including The Black Lips, The Meteors and Cashed Out.